International Business and Development (in English)
Short presentation of the programme:
The main educational aim of the International Business and Development masters' programme is to prepare highly qualified and competent specialists with general economic training and specialised functional knowledge in the field of international economic relations and the organisation and management of international business. The curriculum is in line with the latest trends in the development of the global economy, provides up-to-date knowledge in both the theory and practice in international business and prepares students for their practical realisation in organisations with international economic activity. Training in the International Business and Development masters' programme contributes to forming knowledge and skills that develop and enrich the expertise and management capacity of the students, thus providing a competitive advantage in their professional realisation. The length of the course of study is two semesters.
прочети още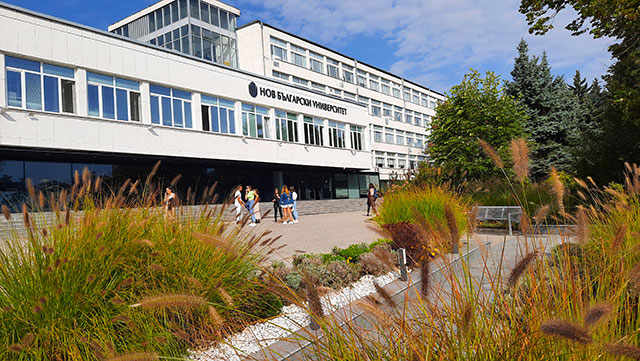 Major and professional qualification:
Major: Международен бизнес и развитие (на английски език)
Qualification: магистър по международен бизнес и развитие

International mobility:
Students have the opportunity to carry out Erasmus+ student mobility at Universities in Germany, France, Belgium, Italy, Portugal, Poland, Latvia, Romania, Greece, Turkey, which have bilateral Erasmus agreements with NBU.
Graduate Student Competencies:
• understand in depth the content and instruments of national and foreign economic policy, to interpret the global status-quo, tendencies and perspectives of Bulgarian companies and the Bulgarian economy in general and to form and justify their own position on the directions for their improvement.
• critically evaluate the current situation, as well as the dynamics and trends in global economy to be able to take adequate and timely management decisions;
• use the most up-to-date methods for economic analysis and quantitative and qualitative assessment of the functioning of business organizations in a multicultural environment;
• generate innovative economic ideas and use interdisciplinary approaches and tools creatively to solve business cases in dynamically changing conditions;
• develop and implement problem-oriented strategic solutions to manage the economic activity of business agents in an international business context.
Occupation and possible positions:
Qualification: Master in International Business and Development
"International Business and Development" Masters' Program graduates have an extremely diverse and wide range of career opportunities, meeting the specific requirements for senior and mid-level management positions in state and local administration, in companies with international activity, as well as in the non-governmental sector. They have the necessary qualifications to be employed in international economic, commercial and financial institutions, as well as in multinational companies and have the opportunity to work as experts in many areas of the world economy, as consultants and as entrepreneurs. The acquired knowledge and skills also meet the requirements for professional realization in EU institutions.
Department :
Economics