ENGB711 Семантика и лексикология на английския език
Анотация:
This 15-week lecture course is designed to provide a comprehensive introduction to core concepts and types of data in semantics, lexicology, and word formation. The course is organized in three parts. It starts with a historical perspective on major ideas and theories that have had an impact on the study of words and meaning, and then explores the main current approaches to semantics and lexicology. Special emphasis is given to structuralism and cognitive semantics. Part two focuses on meaning description and its implications for lexical analysis: types of meaning, syntagmatic and paradigmatic relations, sense relations (hyponymy, polysemy, homonymy, synonymy and antonymy), metaphorical and metonymic shifts, lexical fields. The third module surveys the sources of English vocabulary, its innovation and growth, the processes of word formation. Some aspects of phraseology and lexicography are briefly discussed.
Aims: The course aims to:
- equip students with basic terms and concepts in lexical semantics;
- provide students with introductory theoretical knowledge of semantic and lexical organization of language;
- train students to critically assess the main approaches in lexical research;
- develop students' ability to critically evaluate the assigned reading;
- give students theoretical and practical insights into the nature of the English lexicon: its structure, organizing principles and the underlying processes at work;
- help students learn how to apply theoretical concepts and critical thinking skills to data analysis and practical problem-solving tasks with regard to English vocabulary;
- encourage students to adopt a broader interdisciplinary and cross-linguistic approach to lexical phenomena and deepen their understanding of the interrelatedness of linguistic disciplines;
- extend students' awareness of the practical relevance of their study of the English lexicon for the purposes of English language teaching and translation;
- encourage students to apply the acquired knowledge and skills for further independent study of lexicology and lexicography.
прочети още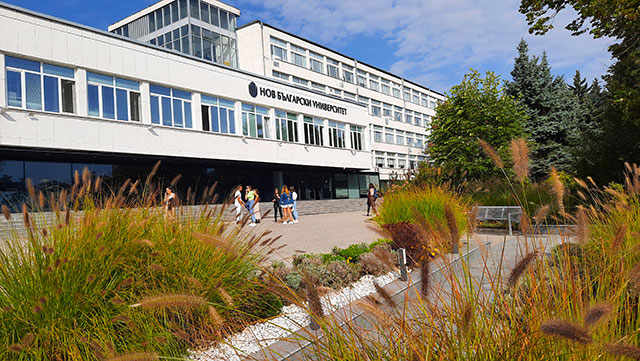 Преподавател(и):
гл. ас. Амелия Марева
проф. Дияна Янкова д-р

Описание на курса:
Компетенции:

Learning Outcomes:
Knowledge Outcomes: On successful completion of this course students will:
- become familiar with the key terms used in semantics and lexicology;
- understand the major concepts and principles used in semantics and lexicology;
- gain an understanding of basic semantic theory and its importance for the study of English language;
- gain knowledge of the structure of the English lexicon and the major derivational processes in English;
- gain a general understanding of qualitative and statistical analysis of lexical data;
- gain an introductory understanding of the relationships between framework, theory, analysis and data in lexical semantics, and in a broader macrolinguistic and cognitive context
Ability Outcomes: By the end of the course, students will be able to:
- demonstrate understanding of key terms and concepts in lexical semantics;
- read basic literature in semantics and lexicology with a comfortable degree of understanding;
- critically examine and interpret theories and models which have emerged in areas of semantics, lexicology and lexical derivation;
- assess the place of lexical semantics in the broader context of linguistics and other cognitive sciences;
- apply theoretical knowledge and appropriate techniques for describing and analysing lexical data in problem solving activities;
- discuss specific aspects of word meaning, describe the basic features of English vocabulary, explain the mechanisms of word formation in terms of productivity, etc.
- improve their research skills so that they will be able to plan, execute and present a piece of research, either independently or as a member of a group; throughout the course students will be expected to:
o summarize and critically evaluate literature assigned for reading
o seek out, collect and organise lexical data for the solution of various problems
o produce independent and informed analyses of lexical phenomena
o place the results of their analyses within an appropriate theoretical context
o identify their sources and cite evidence appropriately
o report findings in an appropriate form: either by writing argumentative essays and reports or by making accurate and coherent presentations
o keep good records of their work
- improve some additional skills including oral and written communication skills and presentation skills;
- concurrently develop academic language proficiency as students will be required to understand linguistically and conceptually demanding texts and to produce complex written and oral language
Value Outcomes: By the end of the course, students are expected to:
- develop respect and appreciation for the scientific approach to understanding language;
- appreciate the benefits of active learning and intellectual rigour;
- come to value the usefulness of careful attention to the complexities of data;
- realize the importance of managing their independent work;
- gain an appreciation of how the science of lexical semantics relates to other important aspects of human cognition.

Предварителни изисквания:
Prerequisites:
- C1 level of English
- a course in general linguistics

Форми на провеждане:
Редовен

Учебни форми:
Лекция

Език, на който се води курса:
Английски
Теми, които се разглеждат в курса:
Литература по темите:
Learning Resources:
Required Reading:
1. Dirven, R. and M. Verspoor. 1998. Cognitive exploration of language and linguistics. Amsterdam and Philadelphia: Benjamins. (The book is available in the NBU library: Ч 800 / D 62)
2. Cruse, D. A. 1986. Lexical Semantics. CUP.
Lecture materials developed by Amelia Mareva and published on MOODLE/NBU
Further Reading:
1. Bauer, L. 1987. English Word Formation. CUP.
2. Jackendoff, R. 1990. Semantics and Cognition. The MIT Press. (The book is available in the NBU library)
3. Lehrer, A. Semantic Fields and Lexical Structure. Amsterdam: North Holland Publishing Company, 1974.
4. Lewis, M. The Lexical Approach: The State of ELT and a Way Forward. Language Teaching Publications, 1993.
5. Lyons, J. 1995. Linguistic Semantics. An Introduction. Cambridge: Cambridge University Press. (The book is available in the NBU library)
6. Molhova, J. 1976. Outlines of English Lexicology. Naouka I Izkoustvo, Sofia.
7. Pencheva, M. 2001. What's in a Word. St Kliment Ohridski University Press. Sofia.
8. Пенчева, М. 1991. Английското словообразуване. Факти и проблеми. Университетско издателство "Климент Охридски", София.
Dictionaries:
Oxford English Dictionary (also via library website: www.uce.ac.uk/library/public
Dictionary.com: http://dictionary.reference.com/
Online Etymology Dictionary: http://www.etymonline.com/
Bank of English: www.cobuild.collins.co.uk
World Wide Words: www.worldwidewords.org
Ask Oxford: www.askoxford.com
Средства за оценяване:
Teaching/Learning Activities: conversational lectures; in-class group discussions and exercises; individual presentations; students' self-study and reading; portfolio preparation: written summaries and comments on assigned readings, data collection and analysis. The course is supported by a website at NBU/VEDA.
Course Requirements: Students are required to attend classes, work through the study guides and prepare their portfolio assignments on time. It is also important that students regularly check the course website, as practice exercises will be posted there. Students are encouraged to make active use of office hours to ask questions about the topics they are having difficulties with.
Students will be asked to work individually and sometimes in small groups of two or three on several types of ongoing assignments:
(a) Homework assignments. For most of the topics, homework exercises are an indispensable tool for getting clear on the concepts involved. The lectures will present an overview of the topics and introduce key theoretical concepts and relevant empirical data. Students will be given qualitative and quantitative homework exercises so that they can enhance their understanding of the course material and gain practice in applying the knowledge they have acquired. Exercises will be assigned either to turn in, or to prepare for discussion in class. Students' drafts will be graded and returned with comments for use in preparing the final version. These drafts must be retained and turned in with the final versions as they will become part of the portfolio.
(b) Portfolio. Students will be expected to develop a learning portfolio which is to be submitted at the end of the term. Ongoing guidance on portfolio preparation will be provided. The portfolio will include all written assignments from independent study.
(c) Quizzes. The purpose of the quizzes is to promote a regular and systematic study of the course material. The quizzes are to test students' understanding of semantic and lexical phenomena and they will be based both on the lectures and the assigned readings. There will be three 20-minute quizzes, which will not be cumulative. The format of the quizzes will be short definitions, short answer questions, and short problem solving questions; multiple choice questions may appear occasionally.
(d) Final oral examination. The final oral examination is comprehensive in nature; it is a synthesis and application of the knowledge and skills acquired during the course. It is taken after completion of all other tasks and requirements. The examination will deal with the theoretical concepts and insights gained in the course, and will consist of problems similar to the homework assignments. The final oral examination will normally last 15 to 20 minutes.
Assessment: The final grade will be based on the following weights: active in-class participation (10%), portfolio preparation (40%), satisfactory performance on the three in-class quizzes (30%; 10% each) and a final oral examination (20%).