Пенко Иванов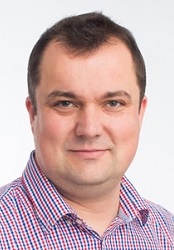 Професионална автобиография:
Penko Ivanov is a professional in IT who successfully managed large scale projects in leading companies and organizations. He has a long-standing experience in IT services, digital product management and marketing, solution sales, solution design, software development, business analysis, and project management. Penko holds Project Management Professional (PMP), Certified Business Analysis Professional (CBAP), and PMI Professional in Business Analysis (PMI-PBA) certifications.
Penko is accomplished both in industry and academia. He holds a bachelor's degree in Economics and a master's degree in IT project management and is close to receiving a PhD in computer science from the New Bulgarian University. He also has extensive teaching experience in Bulgaria and the United States, including lectures at the University of York and Boston University. Penko teaches graduate courses in IT Project Management, Business Analysis, and Data Mining for Business Analytics.
Currently, Penko is working for the Financial Times (FT) in the department which builds and runs the core technology platforms powering the FT, leading the business analysis discipline and the business analysts. Before FT, he worked for GfK doing business analysis, requirements engineering, and functional architecture design within a big data project to develop the next generation of GfK's core data landing, harmonization, enrichment, and production software system.
Before GfK, Penko worked for Konica Minolta developing their MDS/MPS portfolio in Bulgaria.
Penko's previous employments include the management of complex IT projects for corporate and government customers in Bulgaria and the Balkans.
Penko's research interests are project management, business analysis, data analytics, machine learning, and natural language processing.
Публикации:
"Analytics-driven approach to agile software product delivery" published in the "Proceedings of the 16th International Conference on Computer Science and Education in Computer Science", online, ISSN – 2603-4794 · Sep 5, 2020
"Practical Model Deployment for Hands-on Experience in Applied Business Analytics Courses" published in the "Proceedings of the 15th International Conference on Computer Science and Education in Computer Science", Fulda, DE, 2019, ISSN – 2603-4794
"Teaching Data Mining Techniques to Applied Business Analytics Students with the Help of Interactive Hands-On Tutorials" published in the "Proceedings of the 14th International Conference on Computer Science and Education in Computer Science", Boston, MA, USA, 2018, ISSN – 2603-4794
"Striking the Balance: Teaching Data Mining with The Right Mixture of Depth and Breadth" published in the "Proceedings of the 14th International Conference on Computer Science and Education in Computer Science", Boston, MA, USA, 2018, ISSN – 2603-4794
"Data Analytics for DevOps Effectiveness" published in the "Proceedings of the 14th International Conference on Computer Science and Education in Computer Science", Boston, MA, USA, 2018, ISSN – 2603-4794
"Applied Business Analytical Approach to IT Projects - Methodological Framework" published in the "Proceedings of the 13th International Conference on Computer Science and Education in Computer Science", Albena, BG, 2017, ISSN – 1313-8624
"Effective DevOps as a key to efficient large scale Agile software development - industry case study" published in the "Proceedings of the 13th International Conference on Computer Science and Education in Computer Science", Albena, BG, 2017, ISSN – 1313-8624
"The role of the IT business analyst in a Big Data project – a data-driven approach to business analysis" published in the "Proceedings of the 12th International Conference on Computer Science and Education in Computer Science", Fulda & Nuremberg, DE, 2016, ISSN – 1313-8624
"Preparing Big Data business analysts for the IT project management profession" published in the "Proceedings of the 12th International Conference on Computer Science and Education in Computer Science", Fulda & Nuremberg, DE, 2016, ISSN – 1313-8624
"Business analysis for IT practitioners – an educational approach" published in the "Proceedings of the 11th International Conference on Computer Science and Education in Computer Science", Boston, MA, USA, 2015, ISSN – 1313-8624
Курсове от текущия семестър: