проф. д-р Бойко Георгиев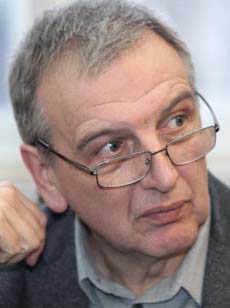 Академична длъжност:
професор
Департамент:
Природни науки
Професионална автобиография:
Виж http://www.iber.bas.bg/?q=en/user/9
Публикации:
Vancheva N, Bobeva A, Pehlivanov L, Stefanov L & Georgiev BB 2020. Alien parasites on an alien fish species: Monogeneans from the Black Bullhead Ameiurus melas (Siluriformes) in the Lake Srebarna Biosphere Reserve, Bulgaria, with the first record of Gyrodactylus nebulosus in the Palaearctic. Parasitology Research https://doi.org/10.1007/s00436-020-06699-z
Mariaux J & Georgiev BB 2020. Cestode parasites (Neodermata, Platyhelminthes) from Malaysian birds, with description of five new species. European Journal of Taxonomy 616: 1–35
Makarikov AA & Georgiev BB 2020. Review of records of hymenolepidids (Eucestoda: Hymenolepididae) from dormice (Rodentia: Gliridae) in Europe, with a redescription of Armadolepis spasskyi Tenora & Barus, 1958 and the description of A. genovi n. sp. Systematic Parasitology 97: 83-98
Redón S, Vasileva GP, Georgiev BB & Gajardo G. 2019. First report of cestode infection in the crustacean Artemia persimilis from Southern Chilean Patagonia and its relation with the Neotropical aquatic birds. PeerJ doi: 10.7717/peerj.7395
Georgiev BB, Casino A & Voreadou C 2019. Training Taxonomists for the Digital World: Are we prepared? Biodiversity Information Science and Standards 3: e36106 (Biodiversity Next, Leiden, The Netherlands, 22-25 October 2019)
Heneberg P, Georgiev BB, Sitko J & Literák I 2019. Massive infection of a song thrush by Mesocestoides sp.(Cestoda) tetrathyridia that genetically match acephalic metacestodes causing lethal peritoneal larval cestodiasis in domesticated mammals. Parasites & Vectors 12: 230
Dimitrova YD, Georgiev BB, Mariaux J & Vasileva GP 2019. Two new cestode species of the family Hymenolepididae Perrier, 1897 (Cyclophyllidea) from passerine birds in Ethiopia, with the erection of Citrilolepis n. g. Systematic Parasitology 96 (3): 279–297
Neov B, Vasileva GP, Radoslavov G, Hristov P, Littlewood DTJ & Georgiev BB 2019. Phylogeny of hymenolepidid cestodes (Cestoda: Cyclophyllidea) from mammalian hosts based on partial 28S rDNA, with focus on parasites from shrews. Parasitology Research 118 (1): 73–88
Guo A, Wang L, Zhang S, Zheng Y, Georgiev BB, Luo X, Huang S & Cai X 2019. Mitochondrial genome of Paruterina candelabraria (Cestoda: Paruterinidae), with implications for the relationships between the genera Cladotaenia and Paruterina. Acta Tropica 189: 1-5
Mariaux J & Georgiev BB 2018. Seven new species of cestode parasites (Neodermata, Platyhelminthes) from Australian birds. European Journal of Taxonomy 440: 1-42
Stoyanov B, Mutafchiev Y, Pankov P & Georgiev BB 2018. Helminths and helminth communities of the Caucasian Dwarf Goby Knipowitschia caucasica (Berg) (Actinopterygii: Gobionellidae) from Lake Atanasovsko, Bulgaria. Acta Zoologica Bulgarica 70 (2): 225-240
Ivanova K, Zehtindjiev P, Mariaux J, Dimitrov D & Georgiev BB 2018. Avian haemosporidians from rain forests in Madagascar: Molecular and morphological data of the genera Plasmodium, Haemoproteus and Leucocytozoon. Infection, Genetics and Evolution 58 (1): 115–124 (link)
Stoyanov B, Mutafchiev Y, Pankov P & Georgiev BB 2017. Helminth parasites in the alien Lepomis gibbosus (L.) (Centrarchidae) from the Lake Atanasovsko Wetlands, Bulgaria: survey of species and structure of helminth communities. Acta Zoologica Bulgarica 69 (4): 555-574
Mariaux J, Tkach VV, Vasileva GP, Waeschenbach A, Beveridge I, Dimitrova YD, Haukisalmi V, Greiman SE, Littlewood DTJ, Makarikov AA, Phillips AJ, Razafiarisolo T, Widmer V & Georgiev BB 2017. Cyclophyllidea van Beneden in Braun, 1900. In Planetary Biodiversity Inventory (2008–2017): Tapeworms from Vertebrate Bowels of the Earth. J. N. Caira and K. Jensen (eds.). University of Kansas, Natural History Museum, Special Publication No. 25, Lawrence, KS, USA, pp. 77–148.
Caira JN, Jensen K, Georgiev BB, Kuchta R, Littlewood DTJ, Mariaux J, Scholz T, Tkach VV & Waeschenbach A 2017. An overview of tapeworms from vertebrate bowels of the earth. In Planetary Biodiversity Inventory (2008–2017): Tapeworms from Vertebrate Bowels of the Earth. J. N. Caira and K. Jensen (eds.). University of Kansas, Natural History Museum, Special Publication No. 25, Lawrence, KS, USA, pp. 1–20
Dimitrova YD, Mariaux J, Georgiev BB (2017) Redescriptions of four Palaeotropical species of the cestode genus Notopentorchis Burt, 1938 (Cyclophyllidea: Paruterinidae). Zootaxa 4290 (1): 061–082
Mutafchiev Y, Mariaux J, Georgiev BB (2017) Description of Acuaria europaea n. sp. (Spirurida: Acuariidae) from Dendrocopos syriacus (Hemprich & Ehrenberg) and Oriolus oriolus (L.) (Aves) in Europe, with results of re-examination of related European species of Acuaria Bremser, 1811. Systematic Parasitology 94(2): 201–214
Stoyanov B, Georgieva S, Pankov P, Kudlai O, Kostadinova A, Georgiev BB (2017) Morphology and molecules reveal the alien Posthodiplostomum centrarchi Hoffman, 1958 as the third species of Posthodiplostomum Dubois, 1936 (Digenea: Diplostomidae) in Europe. Systematic Parasitology 94(1): 1-20
Yoneva A, Kuchta R, Mariaux J, Georgiev BB (2017) The first data on the vitellogenesis of paruterinid tapeworms: an ultrastructural study of Dictyterina cholodkowskii (Cestoda: Cyclophyllidea). Parasitology Research 116(1): 327-334
Stoyanov B, Huyse T, Pankov P, Georgiev BB (2016) Morphological and molecular identification of Gyrodactylus bubyri Osmanov, 1965 (Monogenea: Gyrodactylidae) from Caucasian dwarf goby, Knipowitschia caucasica (Berg) (Actinopterygii: Gobionellidae) from a Black Sea lagoon. Parasitology Research 115(4): 1617–1625
Курсове от текущия семестър: