Cognitive Science (in English)
Short presentation of the programme:
The program prepares specialists in the interdisciplinary field of Cognitive Science. It covers courses in cognitive psychology and cognitive modeling, information processing in the brain, constructive memory, psychophysiological research and cognitive processes, information processing in the visual system and higher visual functions, social cognition, spatial cognition, and consciousness. Training courses include a Summer School in Cognitive Science, various seminars including a seminar on memory and analogy, workshops in psychophysiological research and eye tracking, individual and group research courses, and experimental work. All courses in the program are taught in English. Three courses are compulsory: COGM101 Fundamentals of Cognitive Science, COGM001 Experimental Methods, and the Summer School in Cognitive Science.
прочети още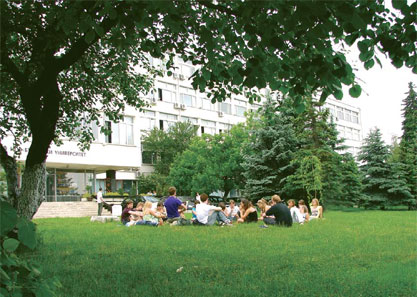 Major and professional qualification:
Major: Когнитивна наука
Qualification: магистър по когнитивна наука

Practical training courses:
The program offers training and internships in laboratories equipped with the contemporary technology necessary for experimental research. These include:
- Experimental Psychology Lab equipped with experiment generator software
- Neuroscience Lab equipped with an EEG system
- Decision and Behavior Lab equipped with an eye-tracking system
- Child Development Lab equipped with technology for observation and analysis of video protocols
- Artificial Cognitive Systems Lab equipped with robots and workstations
- The labs of the Bulgarian Academy of Science
International mobility:
The program offers grants within the current framework of European programs for student mobility, such as 'Lifelong Learning, 'Erasmus' and CEEPUS in partnership with universities in Italy, Germany, Holland, Greece, Poland, Hungary, and Austria.
Graduate Student Competencies:
Graduates will:
- have an interdisciplinary training that combines knowledge and skills in the fields of cognitive psychology, informatics and cognitive modeling, neuroscience, linguistics and philosophy
- have research methodology training, experience and skills for independent experimental research in cognitive science and experimental report writing
- have a focused training in one of the following areas: perception, attention, thinking and memory, language, and cognitive development, that can be further developed and continued in the PhD program in Cognitive Science.
Graduation:
The completion of the Master's program requires an oral defense of a Master's thesis in front of an international committee, after covering the necessary credits. The terms and conditions of graduation are in accordance with NBU's 'Standard of completion for the degree of Bachelor or Master".
Occupation and possible positions:
The program graduates may continue their education to obtain a PhD degree in Cognitive Science, or may pursue careers in research institutions, advertising companies, information technology companies, or educational organizations.
Department :
Cognitive science and Psychology