POLS404 Conflict and War in the Contemporary World
Анотация:
COURSE SHORT DESCRIPTION:
Study of the relationship between space, national power and policy through the examination of territorial, borders, identities, ideological, economic, and cultural dynamics. Topical analyses of the main conflicts and wars from the geopolitics and critical geopolitics point of view.
COURSE AIM AND ANNOTATION:
Although not recognised officially, geopolitics is very much on the contemporary international as well as national agenda. Loosely defined, geopolitics is often dangerously used by politicians, historians, journalists, and academicians to explain the world as it really is – a quasi a-political perspective on the eternal power struggles of states under the influence of geography. Contrary to the 'classical' geopolitics, the critical geopolitics investigates the social construction of space – the way in which space is made meaningful by a wide array of geopolitical actors and their ideas (space, identity, vision and statecraft). The two concepts do not complement each other. They represent different perspectives on the control of the national and international space. The former explains people and states as 'victims' of geography and geopolitics. Rather, the latter argues that the people (socium) are the source of geopolitics.
The aim of the course is to introduce students to the role of geography in politics, help better understand the contemporary conflicts and wars through the prisms of both 'classical' and 'critical' geopolitics, as well as develop a familiarisation with the methods by which territory might be controlled by nations.
To achieve this aim, we discuss multi-dimensional nature of the interaction between political geography (in terms of territory, identity, borders, and demography) and politics (visions, statecraft) and their impacts on conflicts and wars. We unravel the geopolitical perspective at national, regional, and global level in the creation and resolution of conflicts and wars, paying attention respectively to:
- The conflicts between values systems ('clash of civilisations,' 'North-South' relations);
- The geopolitical background of regional conflicts (Western Balkans and former USSR in focus);
- The social construction of nation's territory in terms of politics, identity, demography, and security control (including 'failed' states).
We will reveal and discuss the two controversial tendencies that recently determine the character of contemporary conflicts:
- The state' control decline and non-state actors' (terrorists, transnational organised crime, diasporas) power raising, and
- The growing supra-nationalism and regional autonomy that creates or solve problems.
The course' materials include case studies in Europe, Eurasia, and the Middle East.
LEARNING OBJECTIVES:
Students achieve the following competencies and skills:
- Knowledge of and insights into the political aspect of geopolitics and critical geopolitics.
- Understanding the multi-dimensional nature of the interaction between geography, politics, conflict, and war.
- Ability to apply the methodology of geopolitical analysis to contemporary international, transnational, and local conflicts.
- Ability to use geopolitical analyses to discuss where disputes are likely and which disputes will escalate to crisis and war.
прочети още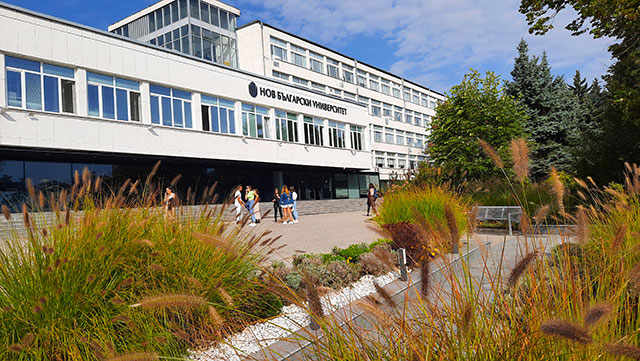 Преподавател(и):
Валери Рачев

Описание на курса:
Компетенции:

REQUIREMENTS: English language proficiency.
JOB OPPORTUNITIES: the obtained knowledge and skills could be applied in working as:
- Political scientist.
- Expert in international organisations as EU, NATO, UN, OSCE, etc.
- Diplomatic servant.
- Civilian servant in defence institutions.
- Expert and consultant to political parties and in specialised NGOs
- Journalists and editors.
TECHNICAL BACKUP OF THE COURSE:
- Multimedia.
- Electronic maps.
- Texts in electronic format.
Предварителни изисквания:
LANGUAGE OF INSTRUCTION: English

Форми на провеждане:
Редовен

Учебни форми:
Лекция

Език, на който се води курса:
Английски
Теми, които се разглеждат в курса:
Литература по темите:
REFERENCE READINGS:
Huntington, S. The Clash of Civilizations and the Remaking of World Order (NY: Simon & Shuster, 2003 edition) or Huntington, S. 'The Clash of Civilizations?' Foreign Affairs, Summer 1993. Available at http://users.metu.edu.tr/utuba/Huntington.pdf.
Owens, Mackubin Thomas, In Defense of Classical Geopolitics, Naval War College Review; Autumn 1999. Available at www.iwp.edu/docLib/20131016_OwensInDefenseofClassicalGeopolitics.pdf
Newman, Edward and Ge?zim Visoka, 'The Foreign Policy of State Recognition: Kosovo's Diplomatic Strategy to Join International Society' Foreign Policy Analysis, 2016. Available at https://www.researchgate.net/publication/301831024_The_Foreign_Policy_of_State_Recognition_Kosovo's_Diplomatic_Strategy_to_Join_International_Society_Table_1
Raik, K. and Sinikukka Saari (eds.) Key Actors in the EU's Eastern Neighbourhood. Competing perspectives on geostrategic tensions (Helsinki: The Finnish Institute of International Affairs, 2016). Available at www.fiia.fi/assets/.../Report47_Key_Actors_in_the_EUs_Eastern_Neighbourhood.pdf
Kellner, D., Dialectics of Globalization: From Theory to Practice. Available at https://pages.gseis.ucla.edu/faculty/.../2007_Kellner_DialecticsGlobaltoPrac07.pdf
Poirson, T. and Robert Oprisko, Caliphates and Islamic Global Politics (Bristol: E-International Relations Publishing, 2014). Available at www.e-ir.info/wp-content/uploads/.../Caliphates-and-Islamic-Global-Politics-E-IR.pdf
US National Intelligence Council, Global Trends 2030: Alternative Worlds. Available at https://www.dni.gov/index.php/about/organization/global-trends-2030?highlight=WyJhbHRlcm5hdGl2ZSIsIndvcmxkcyIsImFsdGVybmF0aXZlIHdvcmxkcyJd
UK Ministry of Defence Global strategic Trends out of 2045. Available at https://www.gov.uk/government/publications/global-strategic-trends-out-to-2045
Средства за оценяване:
COURSE ASSESSMENT:
This mode of assessment will test students' ability:
- To address a major question in the area of geopolitics and critical geopolitics in conflict and war context.
- To draw upon and to engage critically with the relevant literature and to locate this literature in its appropriate historical context.
- To show analytical rigour in their use of concepts in contemporary case studies
Ongoing assessments:
O1. Class Participation (30%)
- Attendance and active participation in individual assignments, group discussions, and simulations are valuable aspects of the course because much of the learning comes from discussions in class with other students. It is expected that the students attend all classes and be on time except for excused emergencies.
O2. An Article Review (10%)
- An article review about two pages long is assigned as criteria for understanding the course' specific terminology, concepts, and policies and their application in the real life.
- A student can select either one of the articles in the "Articles for Review" list or an article that is not on the list yet relevant to the course and his/her interest.
Final assessments:
F1. Test (20%)
- The test with fixed answers will reflect the basics of the geopolitical studies in conflict and war context.
F2. Research essay (40%)
- Each student is required to write a substantial research paper dealing with some significant empirical or theoretical aspect of contemporary geopolitics.
- Typically, between 5-6 pages, the paper should be analytical rather than descriptive and is expected to present logically organised, clearly written, and well-documented arguments. Students should avoid writing a paper that presents normative arguments or political polemics.
To complete the course, the students must have a passing grade for each of the four requirements.