SDEB023 Социалните медии в ИТ услугите (Social Media in IT Service Environment)
Анотация:
COURSE OUTLINE AND OBJECTIVES
The course will discuss how cultural and religious differences - which remain hidden at first - become powerful communication tools to succeed in a multinational company and how they have to be attuned within Sales Departments and Contact Centers.
Intercultural background knowledge is to be introduced, trained and fine-tuned as a sensitive awareness in IT services. During lectures and course discussions students will be involved in the calibration of 'background intercultural procedures' within close-to-real business conversations with business clients and partners. The target here is how to facilitate "the long journey" of Customer Care.
During practice-oriented consultations (online and face-to-face) the lecturers communicate with course participants using:
? Email and Messenger (Facebook, Viber, WhatsApp and WeChat)
? Video Conferencing Tools (Google+ Hangout, Skype, Facebook, Zoom)
? Moodle (as a virtual blackboard)
? Google Docs (to synchronize working sheets and case analyses).
? Dropbox and Google Drive (online platforms to share files < 2 GB).
прочети още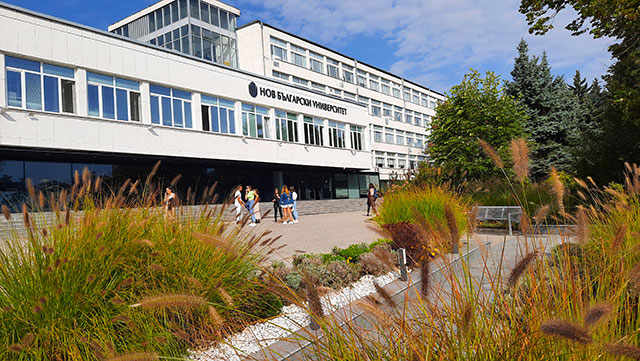 Преподавател(и):
Людмил Дуриданов д-р

Описание на курса:
Компетенции:

COMPETENCIES
Successfully graduated students:
1) know how to:
? Persuade real and potential clients in typical situations;
? Synchronize sensitively social channels using the power within Omni-Channel communication, enhancing Social Media.
? Respond adequately in a globally distributed environment;
? Select and synchronize appropriately social channels with audio and text messages on the, especially during the first seconds when a client meets CSR.
2) can:
? Assume various roles which acquire a confident performance bringing solutions in difficult professional situations
? Design a suitable working style with a customer in English, German or French on-demand;
? Create a well-balanced presence within close-to-real practical cases (interacting with Germany, Switzerland, Austria, France).
Предварителни изисквания:
PRELIMINARY REQUIREMENTS
Students have to bring along the following skills:
? Working English
? Elementary computer skills

Форми на провеждане:
Редовен

Учебни форми:
Лекция

Език, на който се води курса:
Английски
Теми, които се разглеждат в курса:
TOPICS
№ Title of lecture
1. GET BOLD! with Social Media – "fresh air" to influence business interaction
2. Social Media – a Tool Kit in a globally distributed environment
3. Social Media selection for a Global Innovation Center ambience
4. GOING VIRAL on the Social Business Netscape – a completely new model of Service Interaction
5. FACEBOOK – THE VISIBLE EXPERT – a new Strategy for an old Tradition to interact in Service
6. FACEBOOK – an EMERGING SOCIAL TECHNOLOGY to communicate in a globally distributed business (since 2012)
7. TWITTER – the new PR Agent of a global corporation
8. LINKEDIN – an Online CV or a "Professional Club"
9. WECHAT – a Social Highway for business in Southeast Asia
10. SNAPCHAT – the new "Facebook messenger" detecting business emotions in real time following the Viola-Jones algorithm
11. WHATSAPP – the next VIBER or the new SKYPE using encrypted B2B communication
12. Switching between Social Media (FACEBOOK, INSTAGRAM, VIBER, SKYPE, WHATSAPP, WECHAT, SNAPCHAT etc.) – THE NEW NORMAL to get relevant access approaching a potential or an old client
13. Synchronization of Social Channels – mastering a therapeutic solution with aggressive clients
14. Social Channels – platforms for technical issues or Fine Tuning technology for a long customer journey (required skills: interactive competence, the art to respond, positive statement standards - paraphrase)
15. The so-called FACEBOOK TECHNOLOGY – a new approach to "extract" issues and bring solutions
Литература по темите:
RECOMMENDED READINGS
? CARTER, SANDY: Get Bold. Using Social Media to Create a New Type of Social Business, IBM Press 2012.
? FREDERIEKSEN, LEE et al.: The Visible Expert, Hinge Research Institute 2014.
? LUDWIG, HEIKO: Modeling of Customers' Interactive Control of Service Processes, in: ROSSI, MATTI / SIAU, KENG eds.: Information Modeling in the New Millennium, Hershey, PA 2001, p. 406-426.
? NAHON, KARINE / HEMSLEY, JEFF: Going Viral, Cambridge 2013.
? OZUEM, WILSON / BOWEN, GORDON: Competitive Social Media Marketing Strategies, IGI Global 2016.