SDEB009 Стратегическо синхронизиране на ИТ услуги (Omni-Channel Strategies in Service Environment)
Анотация:
COURSE OUTLINE AND OBJECTIVES
The course introduces a number of Omni-channel practice-oriented skills as a set of tools within typical communicative situations of a globally distributed environment. It focuses on the "secrets" of a balanced communication between CSRs (Customer Service Representatives) as well as between CSR and various types of customer profiles aiming to build a 'shared space' in the long run. Participants are expected to acquire the soft skills to interact appropriately with a variety of English speaking customers mostly on the phone, life chat or other web based channels in Global Operation Centers (such as IBM, HP, Atos/Unify/ex-Siemens, Ingram Micro etc.).
Lectures will be delivered as associatively guided discussions on typical communicative situations in Service and Global Delivery Centers, extracted from the experience of Dr. Ludmil Duridanov as a Lecturer at German Universities (Freiburg, Jena, Erfurt, Leipzig) and Consultant and Area Manager of the German Postbank RE Division Jena /former BHW Immobilien GmbH/ (2004-2009).
During practice-oriented consultations (online and face-to-face) the lecturer communicates with the course participants using:
- Email, Skype, Zoom, WhatsApp, Viber, Facebook (consulting participants at any time)
- Moodle (as a virtual blackboard)
- Google Docs (consulting participants to elaborate and synchronize working sheets and case analyses).
- Dropbox and Google Drive (online platforms to share files < 2 GB).
прочети още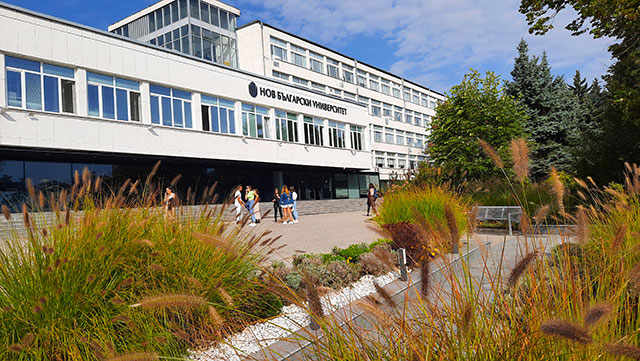 Преподавател(и):
доц. Георги Петров д-р
Людмил Дуриданов д-р

Описание на курса:
Компетенции:

COMPETENCIES
Successfully graduated students:
1) know how to:
- Persuade partners and clients in typical situations;
- Synchronize sensitive channels using the power of Omni-Channel communications;
- Respond adequately in IT service environment;
2) can:
- Assume various roles which acquire a confident performance bringing solutions in difficult professional situations
- Design a suitable working style with a customer in Global English
- Create a well-balanced presence within close-to-real practical cases.
Предварителни изисквания:
PRELIMINARY REQUIREMENTS
Students have to bring along the following skills:
- Working English
- Elementary computer skills


Форми на провеждане:
Редовен

Учебни форми:
Лекция

Език, на който се води курса:
Английски
Теми, които се разглеждат в курса:
TOPICS
№ TITLE OF LECTURE
1/ OMNI-CHANNEL Experience within MULTI-CHANNEL communication in Service – the changed ATTITUDE
2. SOFT SKILLS to Win as a technologically elaborated, PROFESSIONAL MINDSET
3. Practical application of OMNI-CHANNEL communication in IT service environment
4. UNIFIED COMMUNICATIONS AND COLLABORATION – an Interface to synchronize Text, Audio and Video Channels as well as Virtual Whiteboards within a single channel
5. Competencies and professional capacities to spot and initiate a "Customer journey"
6. Synchronization of information pace – Slow vs. Fast Message culture as an "operation system"
7. High vs. Low Context in business conversations – in a Service environment
8. Application of "IM-style" within "IM-channels" of Customer Service
9. Life Chat – THE KING SIZE CHANNEL to communicate
10. Basic Visuals aligning emotionally IT Services (shorthanded signs, graphics, emoji, emoticons, gadget previews etc.)
11. Adjusting the conversation tempo with Clients and Partners (fast / slow, silence breaks etc.)
12. Synchronization between synchronous and asynchronous message etiquette – immediate impact on a successful lead-out of a customer
13. Real-time impact of knowledge extraction in service environment
14. First Consultation of Customers – the Art to Resume (ticketing: speaking with the customer, writing to the next level of customer support service).
15. Quick response to customers "in the elevator" (ELEVATOR PITCH) and persuade them to come along to a "long journey".
Литература по темите:
RECOMMENDED READINGS
HOROWITZ, MAYA: What's the Difference Between Omni-channel and Multi-channel Customer Support? (March 2015)
LUDWIG, HEIKO: Modeling of Customers' Interactive Control of Service Processes, in: ROSSI, MATTI / SIAU, KENG eds.: Information Modeling in the New Millennium, Hershey, PA 2001, p. 406-426.
SOLLMANN, ULRICH: We are our own client, encounter the organization, Heidelberg 2010.